Kathina – Sunday, October 28, 2018
The Tisarana community will be celebrating this year's Kathina ceremony on Sunday, October 28th starting at 10:30am. The event will be held at the Stanleyville Hall across the street from the St. Bridget Church in Stanleyville, which is only 5 minutes from Tisarana Monastery. The address is 844 Stanley Rd, Stanleyville, ON K0G 1K0. Everybody is welcome to participate in this auspicious occasion.
The Kathina ceremony is a 2,500-year-old tradition celebrated across Buddhist monasteries around the world. Following the end of three-months rains retreat period, the Buddha allowed for the lay community to make offerings of cloth and other requests to the Bhikkhu Sangha. The word "Kaṭhina" refers to the frame on which cloth is attached to while sewing robes. Cloth offered on Kathina will be used that day to produce a robe that will then be offered to one of the monks. The Kathina ceremony signifies and celebrates the deep relationships between the lay and monastic communities.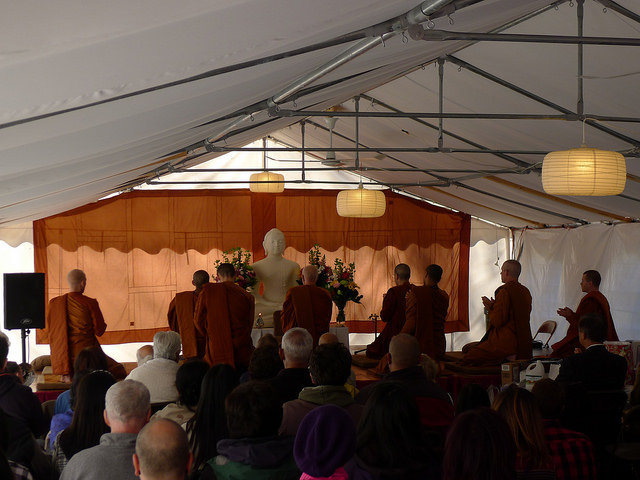 The doors will open at 9AM and the preliminary ceremonies will began at 10:30AM, followed by a meal offering and blessing. At 1PM, the Kathina offering ceremony will take place followed by a Dhamma reflection. This year's Kathina offering is sponsored by a group of Ottawa Buddhist families and friends.
Please ensure that you arrive well before 10:30AM if you are offering dana for the pot-luck meal. Please allow time for finding the venue, parking and getting to your seats.