Ajahn Amaro Coming to Visit
Ajahn Amaro, abbot of the Amaravati Buddhist Monastery in southern England, is coming on May 10-20, 2018 to reside at Tisarana and during that time he will be offering several teachings.

Scheduled events:
12 May, Sat: Meditaion and public talk by Ajahn Amaro at Tisarana, 1:30 – 3:00PM
13 May, Sun: Afternoon meditation and Dhamma Talk with Ajahn Amaro at Sati Saraniya
1:30 – 4:30 pm – meditation, Dhamma talk and Q&A.
19 May, Sat: Vesak Day-long with Ajahn Amaro at Tisarana
9:30 – 11:00 meditation & reflections
11:15 – 12:30 – Meal / dana (Please contribute)
1:30 – 5:00 Meditation & teachings
5:00 – Tea in the Sala with Ajahn Amaro
20 May, Sun: Vesak Celebration. Special guest: Ajahn Amaro
10:30 Precepts:
11:00 Rice pindapat /dana /meal
1:30-ish: Dhamma talk from Ajahn Amaro
About Ajahn Amaro: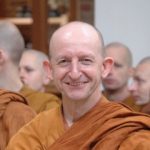 One of the direct Western disciples of Ajahn Chah and currently the abbot of Amaravati monastery in the UK. Ajahn Amaro founded Abhayagiri monastery in California and was co-abbot there with Ajahn Pasanno for 14 years, is author of several books on Buddhism, and is a wonderful teacher and friend of Tisarana. Read a more complete biography for Ajahn Amaro here.